Richland WA Hotels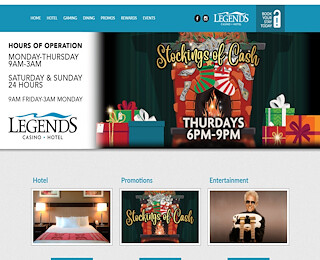 Hotels in Richland, WA? At Legends Casino hotel, you will have the experience of a lifetime. Located at Toppenish, Washington, the City of Murals, there are many amenities and fun experiences to have while staying here.
Perhaps the most iconic is the murals located throughout the city, depicting the town's history and frontier days, as well as local historical figures and the fruit-growing industry. Some are a bit older and are fading away, but newer ones have appeared throughout the years.
Tourists can also visit the Northern Pacific Railway Museum, the Yakama Nation Cultural Center, the American Hops Museum, Adams Country Club, and of course, the Legends Casino Hotel.
Services found at the Legends Casino Hotel
There are several Richland hotels and casinos, but Legends Casino Hotel is, as its name suggests, a legend in the area. 
There are 200 very comfortable rooms and 18 luxurious suites. Legends Casino is one of the Richland, WA, hotels that have it all. Here you can relax and unplug from your day-to-day worries and enjoy the spacious bathroom, walk-in showers, mini-fridge, Keurig coffee service, HDTV, and more.
Every room is equipped with a hairdryer, iron, and ironing board, roll-away beds, and cribs if requested.
Instead of staying at Richland motels, you can come to Legends Casino Hotel and enjoy a great dining experience. We have a buffet all day from 11:00 am to 9:00 pm, where we offer delicious burgers, sandwiches, and Mexican food. We offer a dinner buffet from 4:00 pm to 9:00 pm with some of our specialties: prime rib, Columbia River salmon, airline chicken, chicken Alfredo, shrimp Alfredo.
We are sure that not one of the motels in Richland has a buffet crab boil, right? This is why Legends Casino Hotel is an excellent choice for your stay. Plus, we have a food court with burgers and pizza and a coffee bar.
Gaming at Legends Casino Hotel
One reason people in the area love to come to Legends Casino Hotel is the gaming options. We are home to over 1,500 of the hottest slots. We also have Blackjack, Craps, Spanish 21, Roulette, Pai Gow, and Poker. Here, there is no time to get bored!
If you want to dream big, this is where you have to be. Our machines on the main gaming floor are cash-in/ticket-out, and you can choose from 200 different titles!
For those who prefer table games, you can choose roulette or play cards and place your bets. Plus, we have new chips with an updated design!
You can also have a great time with Keno and hope to become the next winner! 
And finally, we host events all year long for your entertainment; some are entirely free! From music to shows and more, there is something for every type of person.
Don't hesitate to contact us for more information at https://legendscasino.com/contact/. We are ready to become your home away from home, but with the best entertainment in the area.
Legends Casino Hotel
5098658800
580 Fort Road
Toppenish WA 98948 US
Additional Links

Latest Posts