Luxury Hotel Richland WA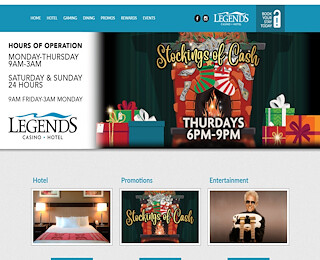 Whether you are on a business trip or vacation, the luxury hotel services offered by Legends Casino & Hotel make it an ideal choice for your stay in Richland, WA. Our hotel's luxurious surroundings, thoughtful designs, comfort, and personalized service sets it apart from any other hotel in Richland, WA. When you check in to our Richland hotels, you can expect an added level of class. Here are some of the features that make our hotel a luxury hotel. You will see these features before and after you book your rooms with us.
Reliable Communication
 At Legends Casino & Hotel, we work hard to provide reliable and instant communication. Our staff is equipped with direct lines from rooms to the front desk to improve your experience. You will appreciate our services and happy to come back.
Modern Interior Design
Our hotel room's appearances are luxurious. We go beyond and above the standard beige bedding and red carpets. We decorate our rooms with a modern interior design. Some of these rooms have peaceful color palettes that create an environment with a more traditional look. 
Unique On-Site Services
 At Legends Casino & Hotel, we amp things up. We have a social area in our hotel with couches and meeting space. A free shuttle service is also provided. Free parking and laundry service are other perks that make our luxury hotels stand out. 
Incredible Beds
At Legends Casino & Hotel, our rooms are fully equipped with beautiful and luxurious beds you will ever find anywhere. Our beds are huge, beautiful, and very comfortable. You won't struggle to get in. Also, the pillows, mattresses, and bedsheets are astonishing as well. 
Communal Spaces
At Legends Casino & Hotel, our hotel designs favor open space that encourages guests to hang out. These communal spaces are great for travelers. They can be excellent networking spots where you can mingle with like-minded people.
Amazing Amenities
 Our hotel features numerous amazing amenities. All rooms have coffee machines, many TV channels, big screens, an office desk, several sheets and towels, reliable Wi-Fi, quality toiletries, and many more great amenities. This means you will enjoy yourself when you lodge in our hotel.
Great Views
Apart from amenities and services, our hotel has great views. Our hotel gives you remarkable views of the city. The casino featured in our hotel is considered one of the most stylish in Richland, WA. When you visit our hotel, expect nothing short of perfection.
Book Your Luxury Hotel In Richland, WA With Legends Casino & Hotel 
If you are looking for a luxurious and comfortable stay in Richland, WA, you can feel free to get in touch with us. We at Legends Casino & Hotel provide a plethora of accommodation options for travelers. Our accommodations are designed restaurant and entertainment zones for guests of all ages. You can explore our website to look at the galleries or give us a call at 1-877-7COME11 — Local: 509-865-8800 for further information related to our services and charges.
Legends Casino Hotel
5098658800
580 Fort Road
Toppenish WA 98948 US
Additional Links

Latest Posts