Hotel Richland WA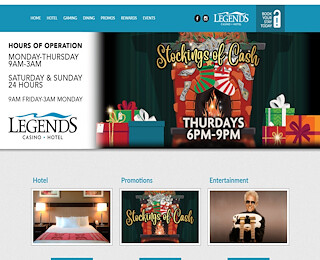 Book at the Top Hotel in Richland WA
Vacations are the perfect scenario to spend great moments of enjoyment and get away from the stress of daily responsibilities. There are different types of trips, but one that stands out from the rest is gambling trips. It is exciting to share with your partner or friends the thrill of gambling at the casino while enjoying a hotel of maximum comfort.
One of the best alternatives for this type of trip is to book one of the top Richland hotels and casinos. You will find different alternatives in the region, but none of them surpasses what we have for you at Legends Casino & Hotel. You must get to know us better, so you know why we are the best hotel in Richland.
Top-6 FAQs About Legends Casino & Hotel
How Do I get to Legends Hotel & Casino?
We are located at 580 Fort Road, Toppenish, Washington. You can reach us by road in your car. You can also take advantage of our exclusive free shuttle service if you are coming from nearby cities. From Yakima, you can use the shuttle on Tuesdays or Saturdays. If you are coming from Tri-Cities, the free shuttle is available Tuesday through Saturday.
How Many People Can Be Accommodated Per Room?
At the leading motel in Richland, we have 200 double rooms, of which you can choose between rooms with one king-size bed or two queen-size beds. Additional beds are available should you need them. For more people, we have 18 suites of maximum luxury and comfort, which can accommodate up to 8 people (Celilo Suite).
What Amenities Do the Rooms Have?
As the best hotel in Richland WA, we look for the maximum comfort of all our guests. That's why all rooms and suites have USB ports, WiFi, deluxe bathrooms, Keuring coffee service, mini-fridge, hairdryer, iron, ironing board, and our incredible 52" HD TVs with 65 channels including HBO, CINEMAX, and ESPN.
What Other Amenities Does the Hotel Have?
At Legends Casino & Hotel, the premium of the Richland motels you will find several options for recreation, such as our indoor pool/hot tub, valet parking, Yakama Nation Cultural Display, coffee bar, and our amazing gift shop. For food, you can choose between our spectacular buffet service or one of the alternatives in the food court.
How Is the Casino Room Like?
The best of the Richland WA hotels offers you the most incredible casino floor with more than 1,500 slots for your enjoyment. We have over 200 slot titles, and you are sure to find your favorite. We also have 19 gaming tables with the 5 most popular games: Blackjack, Craps, Roulette, Spanish 21, and Pai Gow. Other options are our poker area or Keno.
Do you have a Rewards Program?
You can join our rewards club for free and qualify for great prizes with our club card. You can earn and redeem points for cash, gas, dining, hotel stays, event tickets, gift shop products, and vouchers for local participating businesses.
Come to the Greatest Hotel in Richland WA
If you want to spend unique moments at the best hotel & casino in Washington, you're in the right place. Legends Casino & Hotel offers you a unique experience with maximum comfort, luxury, and fun. Let us bring you happy moments, world-class customer service, and the most competitive prices in the market. Contact us.
Legends Casino Hotel
5098658800
580 Fort Road
Toppenish WA 98948 US
Additional Links

Latest Posts