Convention Hotel Yakima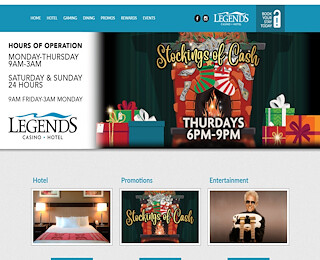 Hire the Best Convention Hotel in Yakima
Conventions and corporate events are one of the best strategies for achieving a variety of business objectives. From product launches, outreach with partners and suppliers, and even internal activities, a convention provides a favorable setting for companies. Also, an excellent event provides a unique experience for participants, further strengthening your brand.
One of the key success factors of a convention is the place you choose to hold it. In that sense, the wisest option is to choose one of the top hotels in Yakima WA. Among the different alternatives in the region, you won't find a better option than Legends Casino & Hotel, the prime of Yakima hotels and casinos. You should know why we are your ideal alternative for your convention.
Why Legends is the Leading Convention Hotel in Yakima?
The Best Venue
We have the most extraordinary convention venues in the area. We can tailor our venues to fit your needs and capacity requirements. Each of the Legends Casino & Hotel venues we offer for your convention will provide a touch of class and distinction that will enhance your brand and your company. To make your event a success, we provide a variety of equipment, including furniture, decorations and audio systems.
More Added Value
With Legends Casino & Hotel you get much more than a top-of-the-line venue for your convention. If you need to accommodate participants or special guests, we offer you our 200 rooms and 18 suites. Besides, your attendees can take advantage of our shuttle service from Yakima or Tri-Cities, making it easy for them to attend your event. Legends has a variety of spaces and amenities that will allow you to offer pleasant options for your attendees during the convention's break times.
A World-Class Staff at Your Service
As the best of the Yakima WA hotels for conventions, we go the extra mile for the success of your convention. That's why you'll have the assistance of the most outstanding team of planners and event specialists to help you organize your convention. From planning, to scheduling, to closing, we'll make sure everything runs smoothly. We strive to provide your attendees with a unique experience that will allow you to achieve all of your objectives. Our staff is the best trained and most knowledgeable in the region, ready to give your guests 5-star attention.
A One-Stop Solution
At Legends Casino & Hotel, the top of the line of motels in Yakima, you will find everything you need for an unforgettable convention. We have a variety of audiovisual devices including screens, projectors, lighting and sound systems that will allow you to successfully carry out all the activities of your event. Also, we have the most extraordinary catering and room service in the area, for the enjoyment of your attendees. If you have any particular requirement, just ask our executives and we will make it possible.
Hire the Finest Convention Hotel in Yakima
If you were looking for the best among Yakima motels for your convention, you've come to the right place. Since opening in 1998, Legends Casino & Hotel has positioned itself as the finest convention venue in the region. We are ready for you to have a unique and unforgettable convention. Contact us.
Legends Casino Hotel
5098658800
580 Fort Road
Toppenish WA 98948 US
Additional Links

Latest Posts